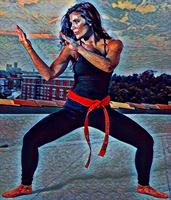 Join us for a special 4-week Self Defense Immersion with Fit to Fight Black Belt, Angela Meyer, a seasoned teacher, mentor and champion of individual empowerment.
This training will make you more aware, prepared, and ready for any situation that may occur in your everyday life. Students will have the opportunity to practice use of physical and verbal techniques in drills and simulated attack scenarios to ensure your health and safety comes first.
This series will be progressive, layering on new skills and practices each week. In a safe, informative environment, be prepared for physical, emotional and mental challenges that are guaranteed to change the way you move through the world.
It is recommended to attend all 4 weeks, but students may drop into individual weeks if approved in advance by Angela.
Series Price: $200; Members Price: $150
Individual Session $60
Register:  https://clients.mindbodyonline.com/asp/adm/main_enroll.asp?fl=true&tabID=8