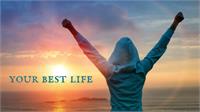 Saturday, October 6 - Finding Your Joy: How to savor YOUR life! (12:30 - 3:00 pm) $45 each or $80 for both workshops
Join Molly for the second in a series on Living Your Best Life! The workshop will help you understand your values and create your life vision, the science behind joy, and the keys to unlocking your joy. You will leave this workshop with a clear idea of your values and life vision, along with guidance and exercises to assist you in being joyous every day.
This workshop will include a guided meditation with essential oils, short lecture on why values and vision need to be formed before setting goals and plans, a values clarification exercise, a future-self guided visualization experience, and vision-board techniques. Journals and healthy snacks will be provided.
* * *
Future Series:
~Saturday, November 10, Overcoming Self-Limiting Beliefs: How to create strong habits
~Saturday, November 17, The Power of Vision: Creating your own vision board
~Saturday, December 1, Creating YOUR Abundance and Ideal Life: How to create an action plan
* * *
About Molly's leadership and life experience:
Molly holds a Master of Arts in Organizational Leadership from Chapman University, a Health and Wellness coaching certificate from the Maryland University of Integrative Health, and a 240-hour yoga teaching certificate from the Himalayan Yoga Academy. Molly believes every person's true nature and purpose lies within. Through wellness coaching, yoga, and meditation, she creates energy for others to find joy, meaning, and fulfillment. Molly is a retired Army Colonel, former city planner, life-long learner, yogi, purpose coach, teacher, meaning finder, wellness warrior, resilience queen, brain-heart connector, and energy creator.