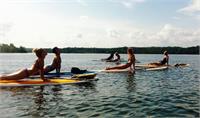 Stand Up Paddle Board Yoga Class is an awesome way to try something new, be close to nature and decompress and destress from our stressful lives!
You will learn basic SUP skills that includes: safe board and paddle control/handling, standing and balance, different SUP strokes, etc with a focus on finding your own comfort level appropriate for beginners. However the main focus of this class is Yoga on the SUP board and enjoying the yogi breath with yoga asana while being outdoors and in nature. The negative ions from the water enhance the calming effect of the yoga breath and asana. Enjoy the calm, clean water and beautiful scenery while practicing all your favorite poses on a paddle board, especially the delicious savasana! We do a mini yoga pose photoshoot so you get all the photos from the day you want!
The 90 min class is $50 including sup board.  If you have your own SUP it's $40.
8/25 9-10:30am
8/26 4:30-6pm and 6-7:30 pm Sunset
9/12 6-7:30pm
9/19 6-7:30 pm
Location of Event will be sent to you the day prior to paddle. Amanda is an ACA Certified Paddle Board Instructor
Please reserve via Mindbody Online or through the Mind Your Body Oasis website under the workshops tab for the SUP Outing of your choice.