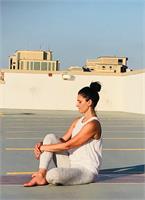 Yoga Nidra is a series of structured awareness (mindfulness) techniques that optimize physical restoration and interrupt the process by which we engage in stressful thoughts.
Yoga Nidra profoundly releases excess tension in the body, preventing stress-related dis-ease at the root. Yoga Nidra not only creates a powerful relaxation response, but it helps prevent the re-accumulation of excess tension.Ultimately, Yoga Nidra trains the body-mind to be disengaged from stress-producing thoughts which may cause stress in the first place.
Anyone, regardless of age, gender, health, and physical fitness can engage in Yoga Nidra. All you are required to do is to assume a comfortable position, laying on your yoga mat, with cushion and support under your head, lower back and legs, or laying on your side, or even sitting, follow the sound of my voice, and do absolutely nothing for the duration of class, allowing your mind-body to restore itself.
Veterans: According to a 2011 study, mindfulness practices [such as Yoga Nidra] have shown to reduce rage, anxiety, and emotional reactivity, and increase feelings of relaxation, peace, self-awareness, and self-efficacy, despite challenges with mental focus, intrusive memories, and other concerns.
Firefighters: another 2011 study showed that having a consistent mindfulness practice, such as Yoga Nidra, was associated with fewer PTSD symptoms, depressive symptoms, physical symptoms, and alcohol problems when controlling for the other study variables, concluding that mindfulness practices such as Yoga Nidra may be important to consider and include in models of stress, coping, and resilience in firefighters.
* * * 
90 min Yoga Nidra workshop
Saturday, August 26, 12pm-1:30pm:
15 min intro to Yoga Nidra
15 min intention setting
45 min Yoga Nidra practice
Price $35/person or pay $30 if you bring a friend (your friends pay $30 too :)
Claudia is a registered yoga teacher with Yoga Alliance and a 200hr YTT graduate from VEToga, a local
non-profit organization with a mission to bring yoga and meditation to veterans, first-responders and
their families at no cost to them.
Claudia has also completed a trauma-informed yoga training program through Prison Yoga Project
specifically designed to teach yoga to trauma affected populations, and has completed the Professional
Yoga Nidra certification with the Integrative Amrit Yoga Nidra Method.
Claudia has developed several yoga focused events in collaboration with the veterans non-profit
organizations VETOGA, Wounded Warrior Project, Mindful Warrior Retreats, and the US Special Forces
Duskin & Stephens Foundation and in partnership with the Georgetown Men's Basketball Team and the
Washington Wizards NBA Team to bring veterans and athletes together on the mat.